UNITS OF THE ROYAL AUSTRALIAN AIR FORCE
A Concise History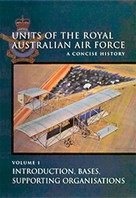 Having often visited the School of Radio web site, one thing I have not previouly done is click on the "Books" tab. Suggest readers give it a go.

Within the list of books is 'Volume 1 - Introduction, Bases, Supporting Organisations' where you will find on page 90, a history of 3TU.

Within this Volume are Histories of many other Units including ATTU where many may have spent some time.


Click below for RADSCHL, when there, click the 'Books' tab, then double click on similar pic as that above. The down-load is several gigabytes in size.

CLICK HERE