1 Dec 91 - No 3 Telecommunicatons Unit (3TU) ceases operations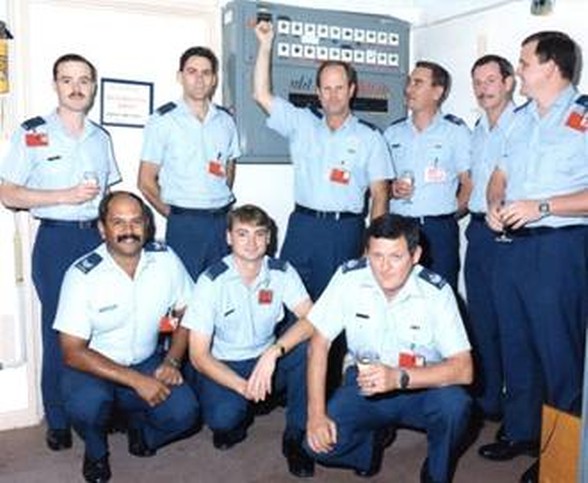 3TU 'Closure Crew'


R 010002Z DEC 91
UNCLAS
FM 3TU
TO THE REST OF THE SIGNALS COMMUNITY
CO/236

3TU - CESSATION OF OPERATIONS


1. 3TU CEASED ALL SIGNALS OPERATIONS AT 010001Z DEC 91. THIS MARKS THE END OF A CHAPTER IN RAAF SIGNALS HISTORY WHICH BEGAN IN OCTOBER 1945.WHEN THE AIR BOARD ISSUED ORGANISATION MEMORANDUM 1081 AUTHORISING THE FORMATION OF 3TU AT RAAF PEARCE.

2. IN THE ENSUING 45 YEARS THERE HAS BEEN TWO CONSISTENT AND DISTINCTIVE FEATURES OF 3TU'S CHARACTER. THE FIRST IS THE AFFECTION WITH WHICH THE UNIT HAS BEEN HELD BY THREE GENERATIONS OF RAAF SIGNALS PERSONNEL. SINCE IT BEGAN, 3TU HAS EMBRACED AND NURTURED IT'S YOUNG OPERATORS WITH GENUINE WARMTH AND CONCERN. FOR YEARS FLEDGLING OPERATORS LEARNED THEIR TRADE AT 3TU AND THEY LEARNED IT WELL. WHEN THEY WERE READY THEY WOULD GO OUT AND SERVE AT SINGLE SERVICE AND CIVILIAN AGENCIES IN AUSTRALIA AND OVERSEAS. INVARIABLY THESE SAME PERSONNEL RETURNED TO 3TU LATER IN THEIR CAREERS, AND 3TU WELCOMED THEM. IT IS NOT DIFFICULT TO SEE WHY MANY HAVE COME TO SEE 3TU AS AN EXTENDED FAMILY, OR WHY RAAF OPERATORS REGARD 3TU AS THEIR PROFESSIONAL HOME.

3. THE SECOND ENDURING FEATURE OF 3TU'S CHARACTER HAS BEEN IT'S ATTITUDE TO EXCELLENCE AND ACHIEVEMENT. OVER THE PAST 45 YEARS 3TU HAS WITNESSED THE RELENTLESS ADVANCE OF COMMUNICATIONS TECHNOLOGY IN THE REGION AND THE WORLD. 3TU HAS ALWAYS ENDEAVOURED TO DO MORE THAN MERELY KEEP PACE WITH THESE DEVELOPMENTS; WE HAVE ENDEAVOURED TO STAY AT LEAST ONE STEP AHEAD. MANY INDIVIDUALS IN DOS AND DSD HAVE WORKED HARD TO HELP 3TU IN IT'S EFFORTS, AND WE THANK YOU FOR THIS. BECAUSE IT HAS TRIED TO EXCEL, 3TU HAS TRADITIONALLY ACCEPTED CHANGE AS A NATURAL AND INDISPENSIBLE PART OF THE CONTINUING BATTLE TO MAINTAIN THE ADVANTAGE OVER OUR COMPETITION.

4. TO LOSE 3TU IN THE NAME OF PROGRESS THEREFORE EVOKES MIXED EMOTIONS. MANY SENIOR OPERATORS ARE NATURALLY DISAPPOINTED AT THE UNIT'S DEMISE; THEY HAVE LOST A PART OF THEIR PROFESSIONAL HERITAGE. AT THE SAME TIME, THE PROFESSIONALISM RAAF OPERATORS HAVE BEEN TAUGHT AT 3TU DEMANDS THAT OPPORTUNITES TO ADVANCE MUST BE SEIZED AND SEIZED VIGOUROUSLY. I AM CONFIDENT THAT 3TU MEMBERS WILL CARRY THIS SPIRIT WITH THEM TO THEIR NEW UNITS, ESPECIALLY THE JOPC. I BELIEVE THAT ALTHOUGH 3TU WILL SOON BE A MEMORY, THE HEIRS OF THE 3TU TRADITION WILL WORK WITH DEDICATION AND LOYALTY TO FORGE A NEW SIGNALS ORDER IN AUSTRALIA.

5. I WOULD ALSO LIKE TO ESPECIALLY THANK THE MANY 3TU PERSONNEL WHO HAVE NOT BEEN DIRECTLY INVOLVED IN THE OPERATIONAL WORKINGS Of THE UNIT, BUT WHO BY THEIR EFFORTS HAVE ENABLED THE UNIT TO ACHIEVE ITS TASKS OVER THE YEARS.


6. ONE FINAL THOUGHT:
O! WOULD KIND HEAV'N REVERSE MY FATE,
GIVE ME TO QUIT A LIFE I HATE,
TO FLOW'RY FIELDS I SOON WOULD FLY:
LET OTHERS STAY -TO CHEAT AND LYE